Union Cabinet clears Bill for creating special DNA profile databanks
July 5, 2018
The Union Cabinet has cleared the contentious DNA Technology (Use and Application) regulation bill 2018 that seeks to create DNA data banks across India to store profiles for forensic-criminal investigations.
The proposed Bill also provides for a jail term of up to three years to those who leak the information stored in such facilities.
"The primary intended purpose for enactment of "The DNA Technology (Use and Application) Regulation Bill" is for expanding the application of DNA-based forensic technologies to support and strengthen the justice delivery system of the country," said the government statement on the Cabinet decision.
This is the latest version of a Bill that originated as a DNA "profiling" Bill, framed by the Department of Biotechnology, reported The Hindu. The aim of that draft legislation was to set up an institutional mechanism to collect and deploy DNA technologies to identify persons based on samples collected from crime scenes or for identifying missing persons.
However there was opposition, in that some activists argued that the manner in which DNA information was to be collected and the way they were to be stored by forensic laboratories constituted a violation of privacy.
A senior official familiar with the Bill said that several clauses of the Bill were tightened to make it stronger and immune to data abuse.
"This doesn't aim to create a database of DNA profiles…The databanks can only store information related to criminal investigations and the DNA details of suspects will be deleted," said Renu Swarup, Secretary, Department of Biotechnology, according to The Hindu.
The Bill creates a DNA Profiling Board that would be the final authority that would authorise the creation of State-level DNA databanks, approve the methods of collection and analysis of DNA-technologies.
The bill's provision would enable cross-matching between persons who have been reported missing and unidentified dead bodies found in various parts of the country on the other.
It would also help to establish the identity of victims in mass disasters, says a press note issued by the Cabinet.
The most important application of the legislation would be in the criminal justice system as it would allow the government to maintain a DNA database for the criminals convicted of heinous crimes.
Over a period of time, the database is expected to lead to better justice delivery and improve conviction rate, which currently stands at 30%. In addition, the bill provides for mandatory accreditation and regulation of DNA laboratories, preventing non-accredited laboratories to test DNA samples.
The statement issued by the government said forensic DNA profiling is of proven value in solving cases involving offences that are categorized as affecting the human body (such as murder, rape, human trafficking, or grievous hurt), and those against property (including theft, burglary, and dacoity).
The aggregate incidence of such crimes in the country, as per the statistics of the National Crime Records Bureau (NCRB) for 2016, is in excess of 3 lakhs per year. Of these, only a very small proportion is being subjected to DNA testing at present, said the statement.
It is expected that the expanded use of this technology in these categories of cases would result not only in speedier justice delivery but also in increased conviction rates, which at present is only around 30%, as per the NCRB Statistics for 2016.
The Bill will be introduced in Parliament during the Monsoon Session beginning July 18, said media reports quoting government sources.
The bill, based on the one prepared by the Law Commission recently, says that national and regional DNA data banks will be set up for maintaining a national database for identification of victims, suspects in cases, undertrials, missing persons and unidentified human remains.
Those leaking the DNA profile information to people or entities who are not entitled to have it, will be punished with a jail term of up to three years and a fine of up to Rs. 1 lakh. Similar punishment has also been provided for those who seek the information on DNA profiles illegally.
Minister for Science Dr Harsh Vardhan, tweeting about the Cabinet decision, said: "Cabinet approved a bill for use & regulation of #DNATechnology. It seeks appln of DNA based #ForensicTechnologies to support & strengthen justice delivery system, devmt of uniform code of practices in all labs & scientific upgradation & streamlining of #DNA_Testing. @DBTIndia"
View image on Twitter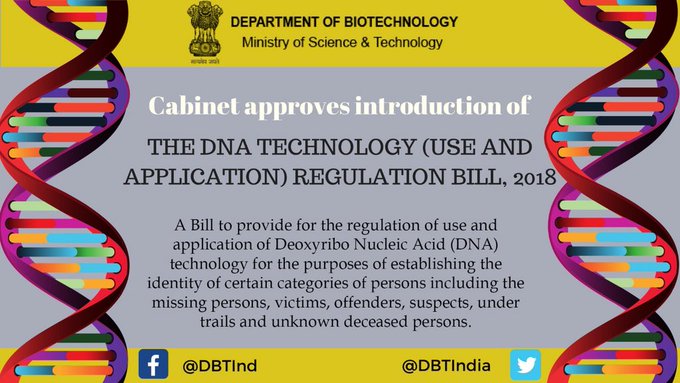 Dr. Harsh Vardhan
✔@drharshvardhan
Cabinet approved a bill for use & regulation of
#DNATechnology
. It seeks appln of DNA based
#ForensicTechnologies
to support & strengthen justice delivery system, devmt of uniform code of practices in all labs & scientific upgradation & streamlining of
#DNA_Testing
.
@DBTIndia
8:52 PM - Jul 4, 2018
130
87 people are talking about this
Twitter Ads info and privacy
The Congress criticized it as an assault on fundamental right to privacy. Congress spokesperson Manish Tewari tweeted: "DNA Technology(Use and Application) Regulation bill 2018 cleared by Union Cabinet yesterday is a direct assault on fundamental right to privacy. Seeks to legitimise DNA profiling in name of criminal investigations. It is bio-technology version of NATGRID. Needs to be opposed"
Manish Tewari
✔@ManishTewari
DNA Technology(Use and Application) Regulation bill 2018 cleared by Union Cabinet yesterday is a direct assault on fundamental right to privacy. Seeks to legitimise DNA profiling in name of criminal investigations. It is bio-technology version of NATGRID. Needs to be opposed